Wednesday
Burgerday
9 verschillende burgers voor €12,50 / menu!
Dat klinkt toch als de perfecte woensdag? Kom langs en proef het zelf.
Family
Sunday
Doe mee met onze Halloween tekenwedstrijd in oktober en wie weet win jij een leuke prijs!🤠
The Oklahoma Smoker
Ontworpen om optimaal mee te kunnen koken, roken, barbecueën of grillen
Cocktails
De lekkerste cocktails bij onze Texaanse gerechten! Allemaal gemaakt met passie door onze Cowboys & -girls!
Dry aged vlees
Dry aged vlees is echt iets bijzonders! Door het vlees in onze eigen dry aged kasten te bewaren, zorgen we ervoor dat de smaak zo optimaal mogelijk blijft
Million Dollar Bacon
Zoet, pittig, krokante bacon geserveerd met BBQ saus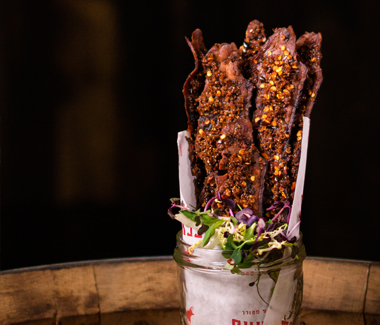 Black Angus Carpaccio
Grain-fed Amerikaans rund, rucola, oude kaas, gemarineerde tomaatje, notenmix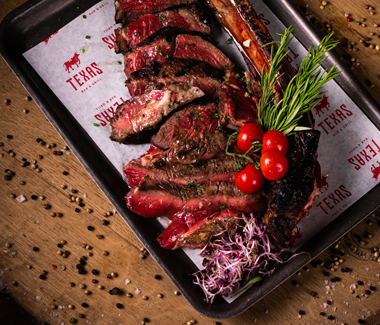 The Texas Burger
200 / 400 gr runderburger van de houtskool grill met BBQ saus, sla, tomaat, rode ui, augurk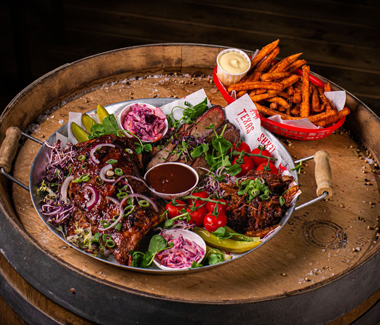 Simmentaler Striploin
350 gr van Oostenrijks Alpen rundentrecote van de houtskool grill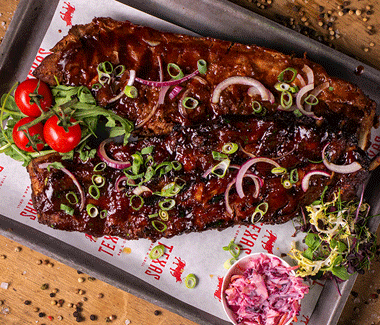 Texas Holy Trinity
Per 2 personen
Spareribs, Texas brisket uit de Oklahoma smoker, pulled pork
Biloute!


Biloute! is een folk- en countryband. Deze enthousiaste muzikanten zijn van vele muziekmarkten thuis en spelen folk, country en lichte pop in het Engels, Nederlands en hier en daar zelfs een Frans liedje. Afwisseling genoeg, rustige ballades, meezingers .. het kan allemaal!



Vrijdag 27 oktober. Vanaf 18:30u.
Turmoil


Turmoil is een jonge band die de klanken van Americana en Roots uit de US naar Nederland haalt. Hun eerste EP 'Volume 1' is te horen geweest op internationale radio en live door heel Nederland. Met de titel 'Parel van de Betuwe' en een plek op Appelpop in de pocket maakt de band zich nu klaar voor de release van Volume 2.

Vrijdag 10 november. Vanaf 18:30u.

Antoinette Hommerson
De Betuwse Antoinette Hommerson, singer-songwriter en leadzangeres van haar eigen band Antoinette & The Bluebonnets, maakt al country muziek sinds haar 8e jaar. Antoinette brengt zelfgeschreven liedjes ten gehore maar ook bekende en minder bekende pareltjes van country songs.


Vrijdag 24 november. Vanaf 18:30u.